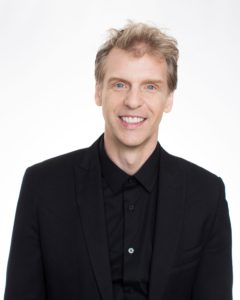 Eric B. Davis is a freelance musician, composer, and teacher in New York whose Broadway show credits include Next to Normal, Anything Goes (2011), Ghost, Matilda, Kristin Chenoweth: My Love Letter to Broadway, Groundhog Day, The Prom and Jagged Little Pill. He has also done workshops of a long list of Broadway shows in development and appears on numerous recordings, cast albums, and jingles. Eric is the touring guitarist for Tony and Emmy winning actress and singer Kristin Chenoweth and has performed with numerous other Broadway stars.
Eric previously taught strings, guitar, and general music in the public schools, both in New York City and Long Island, and currently works as an adjunct lecturer at Queens College in New York. As a composer, Eric has had several pieces published for both string orchestra and choir. He holds a bachelor's degree from The San Francisco Conservatory of Music and a master's degree from The Juilliard School.
A last year he recorded a video for us talking about his two 2020 titles with Tempo Press:
Tango del Sol Brillante, or "Tango of the Bright Sun" is an exotic, engaging and playful dance with catchy melodies and a fun rhythmic pulse enhanced by percussion instruments. Its suave feel and instant appeal to the ear will transport you to Argentina and back.
Precipice is a high energy musical journey that evokes images of scaling ever-shifting terrain to reach the peak of a large cliff, and gaze into the vastness below. Rapid melodies and musical episodes take you on extended twists and turns, leading you to an unexpected and dramatic resolution.