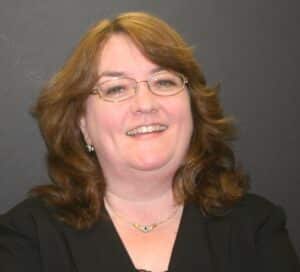 Tracey Rush is founder and Executive Director of the Northeast Iowa School of Music in Dubuque. In addition to her teaching and administrative duties there, she is the orchestra director at Eleanor Roosevelt Middle School. She is also the founding director of the Dubuque Community String Orchestra. In March 2010, the Telegraph Herald (Dubuque) named Mrs. Rush "One of the most influential musicians of the Tri-States." She served four terms as Chair of the Iowa Composers Forum and is a member of the American String Teachers Association, National Association for Music Education, and ASCAP. She is also former principal violist with the Dubuque Symphony.
Rush's compositions have been performed all over the country and in several foreign countries. Her "Angels in the Snow" has been performed by several orchestras and choirs, including the Pittsburgh Symphony, Lucas Richman, conductor, and the Naples Philharmonic, Erich Kunzel, conductor. "Photographic Memories," based on photographs of Muscatine native Oscar Grossheim, was premiered by the Muscatine (IA) Symphony in April 2010. The musical-comedy review Mothering Heights, which Rush co-wrote with Des Moines playwright Rebecca Christian, is published by Dramatic Publishing. Her song-cycle for treble choir, The Butterfly Garden, with texts by elementary students, won the 1999 Francis J. Pyle Commission Award, sponsored by the Iowa Composers Forum. Recent commissions include her "Celebration!" by the Cumberland County Middle School Youth Orchestra (MSYO) of Fayetteville (NC), and "Petite Allegro" by the Ames High School Orchestra in Ames, Iowa.
She has been a finalist in the Continental Harmony Project and Faith Partners Commissions of the American Composers Forum. In 2006, Mrs. Rush was invited to conduct the North Carolina Eastern Regional All-State String Orchestra. In March 2008, she conducted the Brookfield East (WI) High School Symphony Orchestra in a performance of her "Fantasia in F" at Carnegie Hall in New York City.
Rush received her BS in Music Education from Bob Jones University and her MM from the University of Northern Iowa. Mrs. Rush and her husband, John, live in Dubuque where they raised their two sons. They now have the two most adorable grandchildren ever. Her biggest claim to fame, however, is being Michael Gilbertson's first composition, violin, and viola teacher.
Original String Orchestra Works by Tracey Rush
Original Solo & Ensemble Works by Tracey Rush
Arrangements by Tracey Rush