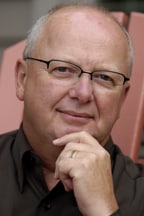 Robert Sieving (b. 1942) is a Minneapolis-based composer, arranger, and retired high school choral music educator. He received his B.S. and M.S. in Vocal Music Education from St. Cloud State University.
In addition to his pieces for string orchestra, Mr. Sieving is an award-winning composer and arranger of choral works. Mr. Sieving's string and choral compositions and arrangements are in the active catalogs of a number of major publishers and are available worldwide. He has served as president of the American Choral Directors Association (ACDA-MN) of Minnesota, and is a past recipient of the ACDA-MN "Conductor of the Year Award" and the ACDA-MN/VocalEssence "Award for Creative Programming." Mr. Sieving is a member of ASCAP.
Adagio and Allegro from Sonata in G, HWV 363b
Handel originally wrote the Sonata in G for flute and harpsichord around the time he moved to England from his native Germany. The airy Adagio is typical of a Handel slow movement. The Allegro's opening melody is repeated through much of the movement as accompaniment to the increasingly complicated melodic lines.
Adagio Cantabile from String Quartet Op. 76, "Emperor"
Give the ensemble a challenge with this piece, based on the famous string quartet. Students are exposed to "theme and variations" form, intricate rhythms, and advanced techniques.
Balletto from Ancient Airs & Dances, Suite I
Based on Renaissance lute music, this piece requires careful attention to detail and musical independence.
Originally for voice and strings, this arrangement maintains the difficulty of the original while challenging the upper violins with the vocal line.
This work is melodically compelling and detailed in timbre, dynamics, and articulation, with rich lyricism between the first violin and cello.
Largo from Concerto No. 3
The Cello Concerto in A is one of C.P.E. Bach's most thoroughly original works. The undulating lines of the original cello solo, as well as contrasting orchestral material, are shared in time by all parts. All parts remain in first position, with a few exceptions for cello and bass in third position.
Adhering closely to the original four-hand piano version, this arrangement retains the beautifully lyrical lines which offer the student orchestra the opportunity to concentrate on bow control and the development of left-hand tonal warmth. The split cello part adds lush sonorities while all parts remain interestingly involved in the primary melodic material.
Pilgrims' March from Symphony No. 4
From 1829 through 1831 Felix Mendelssohn travelled on an extended journey through Europe that inspired several of his best known works. The year and a half that he spent in Italy saw him begin work on this symphony, his fourth. Known as the Italian Symphony, it was warmly received after its premier in London, but Mendelssohn always felt it needed more work and it was never published in his lifetime. The second movement presented here was inspired by a religious procession that Mendelssohn witnessed in Naples.
This salon-style piece brings forth popular European folk-style elements. Its happy and playful nature creates a light and carefree spirit throughout the work!
A split cello part adds to the richness of lush melodies, and the slower tempo encourages rhythmic precision and the opportunity to study blend, balance, and intonation. A true display of an ensemble's lyrical abilities.
Sonata da chiesa in e minor
This salon-style piece brings forth popular European folk-style elements. Its happy and playful nature creates a light and carefree spirit throughout the work!
True to the original, this work captures many different emotive styles of the ensemble, full of rich sonorities and technical nuances associated with Baroque playing.
Song to the Moon from Rusalka
Dvorak's most famous aria has been arranged for the intermediate string orchestra. Extensive divisi passages give young orchestras a rich, full sound.
Based on the popular African-American Spiritual, this fresh arrangement places emphasis on style and expression.
This beautiful arrangement maintains the thematic elements of the original written in a more accessible key.
Three Movements from Magnificat in D
Translating Bach's original vocal lines into a rich setting for string ensemble, these three separate movements are full of educational elements and also give the opportunity to feature a few soloists.
This simply beautiful arrangement offers endless opportunities to showcase the gentle, softer side to your orchestra.